The Hammered Dulcimer
Bill Spence with Fennig's
All-Star String Band
Includes all the instrumental cuts from our original The Hammered Dulcimer, plus 13 from Saturday Night In The Provinces. Includes Gaspe Reel, the original theme from PBS TV's Victory Garden. 42 great country dance tunes. Over 65 minutes of the feel good music folks have been talking about since 1973.
FHR302 (CD) $12.00
Tunes include: The Boys of Wexford, Scotland the Brave, Come Dance and Sing, Ragtime Annie, Sandy River Belle, The Black Nag, Childgrove, Smash the Windows, Coleraine, Haste to the Wedding, The Flowers of Edinburgh, Temperance Reel, Gaspe Reel, Fiddle Head Reel, Don Tremaine's Reel, Dubuque, Galway Hornpipe, Rights of Man, Harvest Home, Fisherman's Favorite, Colored Aristocracy, Over The Waterfall, Prince William, Huntsman's Chorus, Golden Slippers, Old Joe Clark, Mississippi Sawyer, Cabri Waltz, Midnight on the Water, Jaybird, Cherokee Shuffle, Young Jane, Down the Brae, Tobin's Favorite, Swallow Tail Jig, Off She Goes, Morgan Megan, Gallopede, Rufty Tufty, Margaret's Waltz, The Wedding Day, Swinging On A Gate.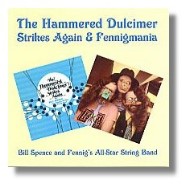 The Hammered Dulcimer Strikes Again
& Fennigmania
Bill Spence with Fennig's
All-Star String Band
An historic compilation of two great LPs. FHR303 (CD) $12.00
Tunes include: The Three Sea Captains, Old Man Dillon, Charlie the Prayermaster, Sort of Silver Bells, McCusker's Delight, Bill Cheatum, Liberty, St. Adele's Reel, Woodchopper's Reel, You Married My Daughter - But You Didn't, Planxty Erwin, Little Judique Reel, Parry Sound Reel, Mudgy Waltz, Margarvine's Waltz, Church Street, St. Mary's, The Tempest, Double Lead Through, Hobart's Transformation, ennigmania, Humors of Ballingary, Captain John White, Rosewood, Antigonish Polka Medley, Free and Easy, Cuffy, Sleepy Lou, The Battle of the Somme, The Fireside Polka, The Hogmanay, Mrs. Grace Bowie, Swing Away, Rowe's Division, The Dixie Bee Line, Bolger's Hornpipe, All Hands Around, Miss Monaghan.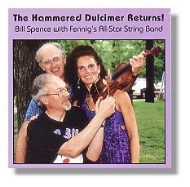 The Hammered Dulcimer Returns!
Bill Spence with Fennig's
All-Star String Band
An all instrumental effort with 34 great tunes on Hammered Dulcimer, Fiddle and Piano from England, Ireland, Scotland, French Canada and our own Northeast.
FHR041 (CD) $12.00
Tunes include: Reel de Montreal, The Grand Chain, Pays de Haut, Pride of Petravore, Random Notes, Polly The Lass, Un Canadian Errant, Hunsden House, Bouchard's Reel, Reel D'Onion, Fitzmaurice Polka, Juanita, La Grondeuse, Little St. Ann's, Billy's Chinese Tune, Glacky Hornpipe, The Quickstep, Young Scotty, Here Comes The Young Man, Jimmy McKinnon of Smeltbrook, Flowers of the Thorn, Dover Pier, Planxty McGuire, March of St. Timothy, Meeting of the Waters, Richard's Jig,
Hat's Off To Scotty!, Pete's Peery Boat, Irish Lament, Reel de Chantier, Pont au Pic, The Slocket Light, Spootis Kerry, Jack's Delight.